Beans might not be the popular choice when people make fast-food decisions. But it is worth every consideration due to the tons of benefit that you derive from this salubrious entrée. Little wonder most people, over the years have had a medical recommendation of bean foods. This is because it plays a significant role in the human body. One of such roles is boosting heart health. Also, its high fibre helps fight high blood pressure, high cholesterol, and digestive illness. It contains a lot of protein and it's a good source of iron, magnesium, potassium, and zinc. It is highly recommended for diabetes control, weight control, and preventing fatty liver. What's more? There are various types and species of beans. They can be prepared in a number of ways using different method and recipes, so you can always enjoy the varieties that it presents. These and many others are the impressive edges of beans and bean foods.
Below is a list of fast foods containing beans that are readily available in fast-food chain restaurants in the United States:
Black Bean and Fruit Salsa
Salsas are savoury and are people's favourite. They can be made of varying ingredients based on individual taste. It contains a good load of beans, black beans to be precise. The black beans are rinsed, drained, and incorporated with other elements including olive oil, pineapple, mango, habanero pepper sauce, diced red pepper, ground cumin, and minced garlic clove to name apart. This mixture is left to sit for 10 minutes and refrigerated until it's ready to be served. They contain protein, fibre, and no cholesterol.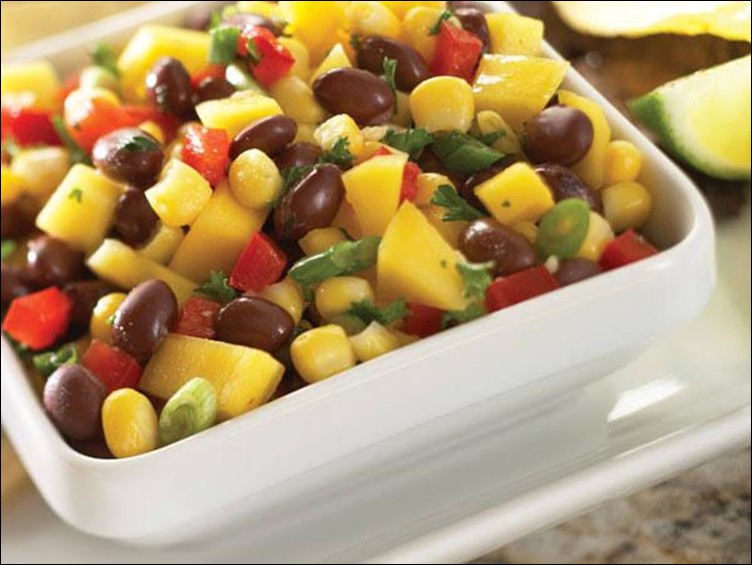 Mediterranean Bean Salad
This salad can be used as a topping to pita or Gyra. It contains a lot of beans and other ingredients that it savoury and healthy. Little wonder the Mediterranean diet made the first place on U.S News and World Report review of diets. The beans used in this salad can vary but mostly used are black beans, white beans and kidney beans. The rinsed and drained beans are mixed with chickpeas, red pepper and onion, tomatoes, cucumber, cheese, mint and green onion. This would be dressed with a mixture of olive oil, red wine vinegar, lemon juice, and garlic. It is high in protein, thanks to the beans and peas.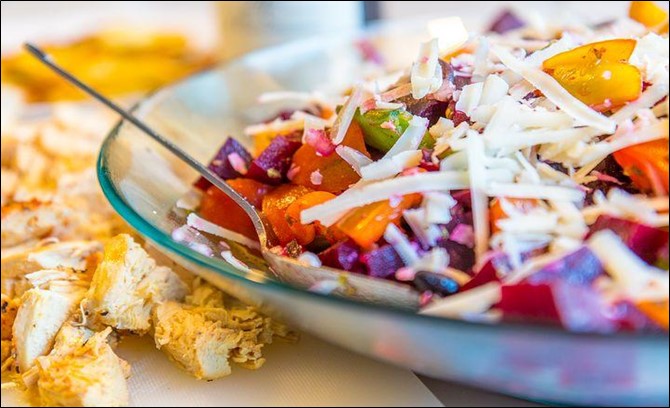 Three-bean pasta salad
As the name implies, this salad has three different types of beans. And of course, it's very high in protein. The green beans are trimmed and cut into pieces. The cooked and drained pasta and green beans are combined with celery, pinto beans, kidney beans, shallots, vinegar, lemon zest, lemon juice, mustard, and honey (made into a whisk). Refrigerate for an hour and serve. This salad has very low fat and very rich in protein.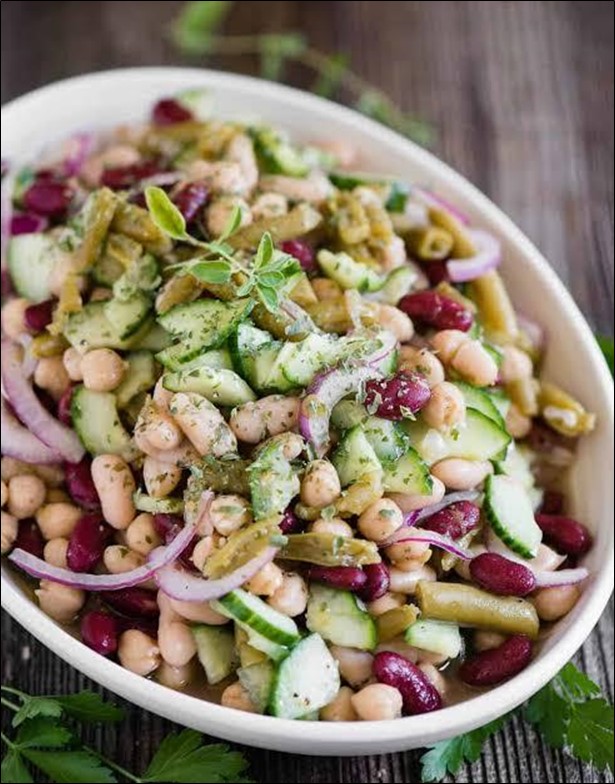 Turkey and bean chilli
Turkey could be lean in protein but when combined with beans and simmered for the proper time, it becomes really healthy and rich for the body. The beans (cannelloni) are rinsed, drained and mixed with cooked turkey, minced garlic, chopped red onion, chilli powder, tomatoes, fat-free chicken broth, and others. Bring to boil and simmer for 10 minutes. The flavour deepens after a day or two. So it can be prepared days before. It has little fat but high on fibre and higher in protein.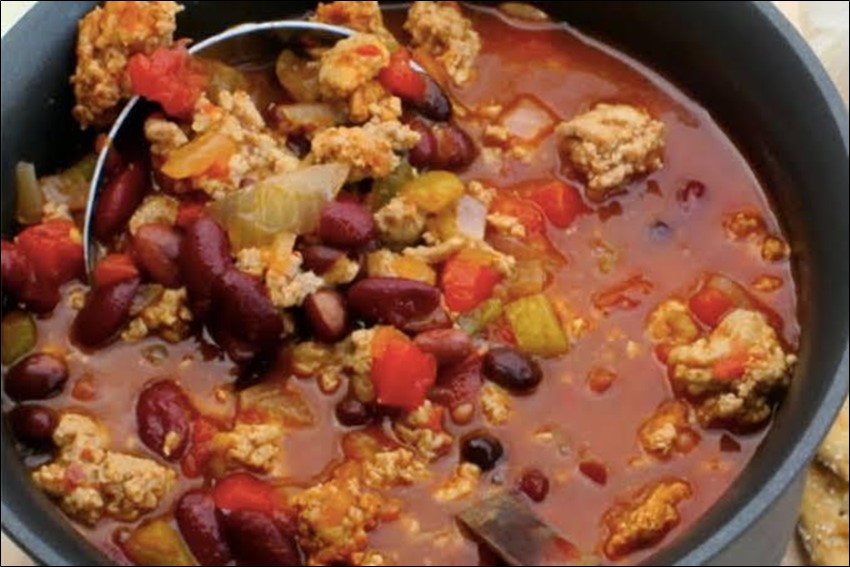 Black bean chocolate muffins
This is on the healthy side as they are 100% plant-based. They have no flour, egg, or butter. The recipe is simple and you do not have to be a pro baker to do it. The black beans are blended with ground oats, pitted dates, maple syrup or any sweetener, vanilla extract and baking powder. Blend in batches and stir in the chocolate chip and bake for about 16-20 minutes. You can choose to add a topping like a cashew vanilla frosting or anyone of your choice. It is, of course, high in protein, fibre, vitamins and hearts healthy fats.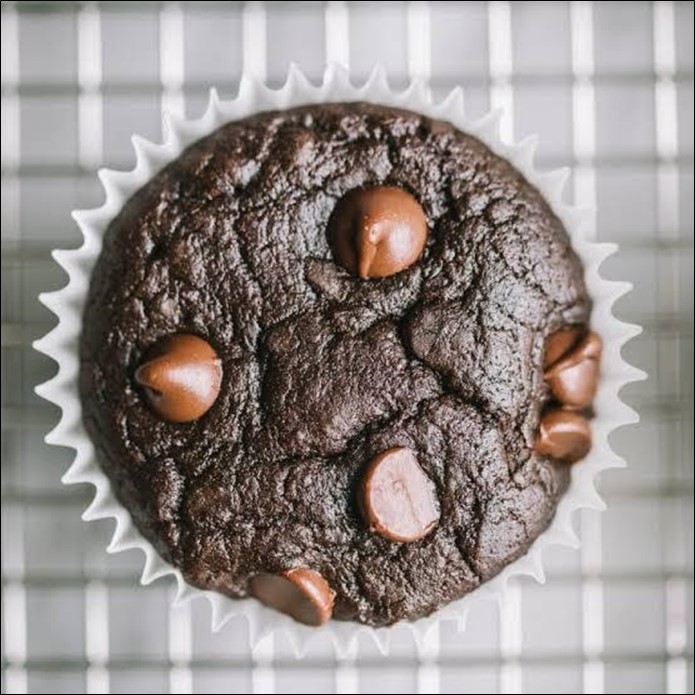 These are a few of foods rich in beans you can try now. You already know how crucial beans is to the body. Its protein content is very high, fat content is very low, and vitamins level is very high. If you want to eat healthily, make sure beans is on your menu. You should never miss out on its nourishment. So now that you know these things, what are you waiting for? Start eating!