Introduction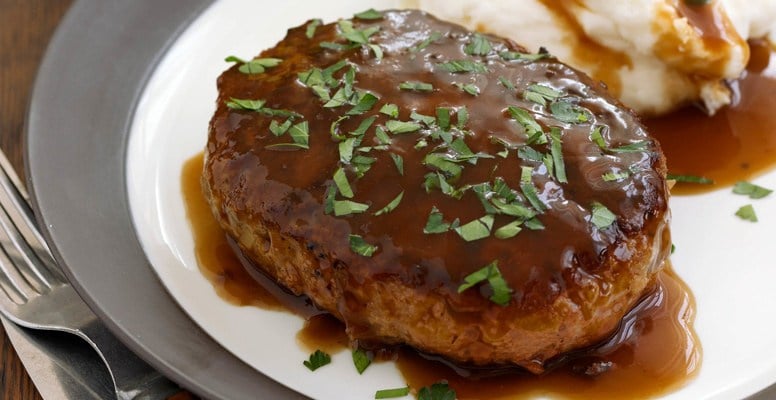 You must be thinking: "isn't this just another burger steak recipe?" You'd be wrong to think that because this recipe is a richer and more robust burger steak. The most significant difference between a burger steak and a Salisbury steak is the different extra spices seasoned with the latter.
Haven't you tasted one? Well, today's your lucky day because this Salisbury Steak Recipe is going to rock your world. There are a few easy steps to master, but generally, you'll be able to do an excellent job on your first try. It's that simple.
What Equipment Do You Need?
There are a few kitchen appliances to have before starting. Don't worry; most of this equipment is found in the everyday kitchen anyway, so 99% of the time, you have these lying around your kitchen.
One nonstick skillet
One kitchen knife
One mixing bowl
One wooden spoon
And that's it! If you have these stationed in your kitchen, you're ready for the next step.
What Ingredients Do You Need?
5 lbs of ground meat (beef is preferable, but if you like pork or lamb meat, that is perfectly fine too)
Olive oil
⅔ cups of Panko breadcrumbs (whichever type of breadcrumbs you bought from the store is perfectly fine also)
2 tablespoons ketchup
Two tablespoons soy sauce (or Worcestershire sauce if you want a tangy sweetness to the protein)
Two teaspoons of onion powder
Two teaspoons of garlic powder
One teaspoon of fresh thyme
A pinch of salt
A pinch of crushed pepper
One egg
10 ounces of mushrooms (you can use any kinds of mushrooms you want, from fresh to canned)
One finely sliced onion
Three crushed cloves of garlic
Two tablespoons of butter
Four tablespoons of all-purpose flour (the quantity depends on how dense you want your sauce to be, the thicker you like it, the more flour you add, and vice-versa)
1 cup of beef broth
Fresh parsley
Optional ingredients:
Mashed potatoes (potatoes, salt, pepper, and milk)
Steps
Molding the patties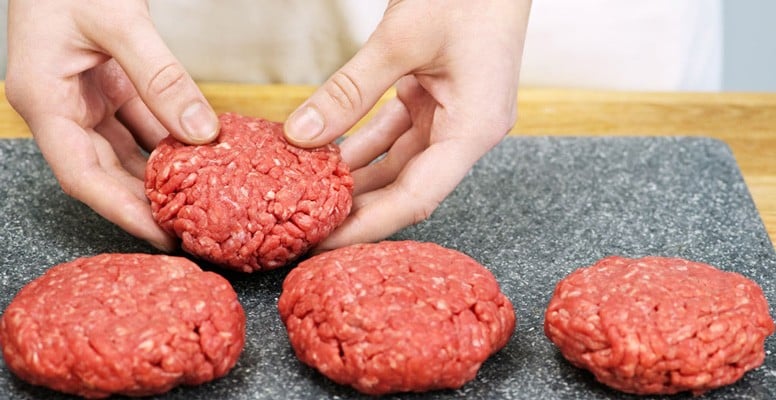 Grab a mixing bowl and add the 1.5 lbs ground beef, Panko breadcrumbs, a tablespoon of olive oil, two tablespoons of ketchup, two tablespoons of soy sauce, two teaspoons of onion powder, two teaspoons of garlic powder, one teaspoon of thyme, salt, pepper, and egg.
With all the mixtures in the bowl, use a wooden spoon or your hands to mold all ingredients until you form one big party. Make sure all proportions are evenly spread out to cook the patty perfectly without any raw sides.
Divide the 1.5 lbs of ground beef into 4 or 5 separate parts and form them into long ovals to resemble an authentic life steak. Molding them into circles will make them look like burger patties which aren't aesthetically pleasing on a plate as it is in a bun. It looks better because of equal distribution from the boiling gravy sauce, which will come later.
Grab your skillet and pour in a tablespoon of olive oil and move the pan around for the oil to cover all the surface. Preheat it until the oil gets hot, and place your 4-5 patties in. The goal here is not to cook them all the way through, and instead, you want to sear or brown them, giving off this golden color.
After 3-4 minutes, set it aside to rest and leave the skillet on uncleaned for the sauce.
The gravy sauce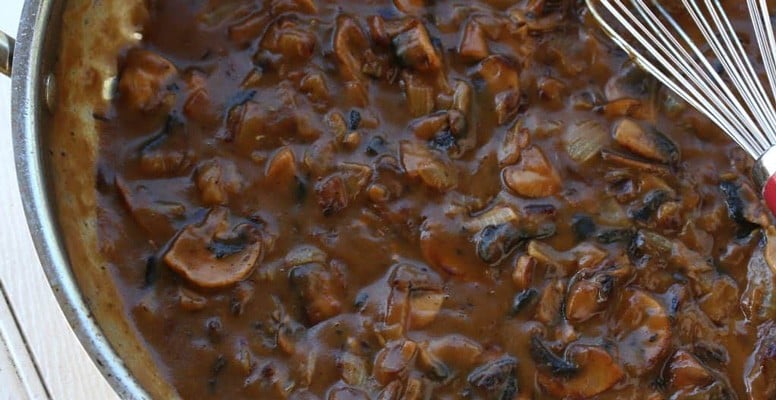 Leave the heat on from the patty searing and put in the sliced onions and mushrooms. DO NOT put oil because you'll risk your sauce becoming too oily, which is not delicious. Instead, Rely on the remaining oil from the searing and the water produced from the mushroom. If you heat mushrooms, they release water which then shrinks them into bite sizes. The mushroom water and oil combo should be enough for moisture.
Once the onion caramelizes, add the crushed garlic until the aroma of the kitchen is covered with rich spices. The next step is to pour a couple of tablespoons of all-purpose flour to make your sauce appear gravy-like. Be careful in over flouring it as this isn't pastry.
Once done, add a respectable amount of beef broth that you intend. It doesn't matter how much you put in because if the broth evaporates, you can add more.
Put the sauce to a boil and stir occasionally. This is probably the essential part of the recipe so pay close attention. Make sure to start the bottom surface of the pan because that's where the natural flavors are for your gravy. Your meat and spices are scraped at the surface so make sure to mix them with the sauce.
Add your rested patties into the pan and let it simmer at low heat while covering a pan lid. After 20-25 minutes, your patties should appear tender and juicy, and this is the time to turn off the gas.
Plating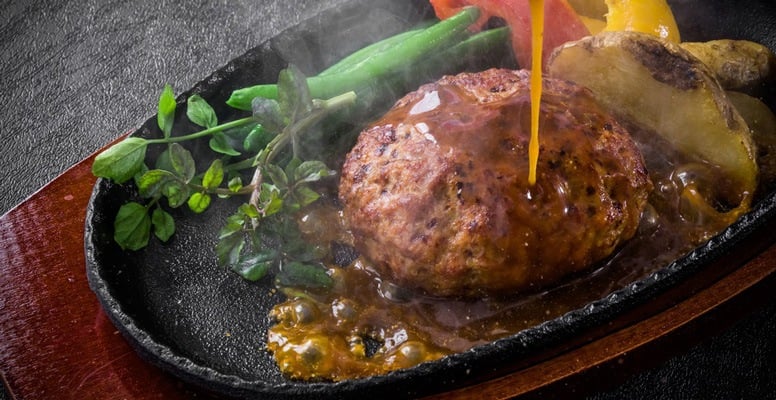 Get a beautiful bowl that covers all the contents of your beefsteak and prepare your skillet filled with the food.
Pour in the contents to your plate and garnish accordingly.
Finely chop your parsley and sprinkle it on top of your Salisbury Steak.
Get a few gravy sauces and drip them in front of the patties for extra flavor.
Serve and eat well.
Final thoughts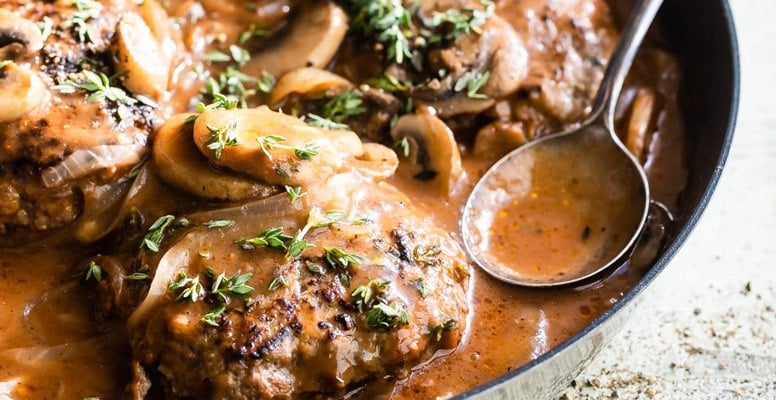 This amazing Salisbury Steak Recipe is everyone's dream. Now that you know how to make this fantastic dish, it's time to cook one for yourself and test the flavors. You should have all the freedom in the world to experiment with different spices to elevate the already wonderful recipe.
This Salisbury Steak is perfect for a romantic dinner, a tight social circle homecoming, Thanksgiving lunch, and just about any average lunch or dinner. It has the flexibility to be a luxurious meal and a cozy meal at the same time. Please don't be shy to share this recipe with your friends and family, and start preparing for it in your kitchen today!